Custom Print Wrapping Paper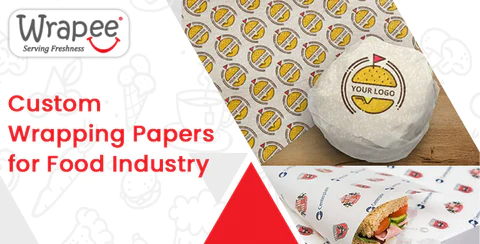 Custom wrapping paper with your logo and custom text printed on it is the perfect way to add that extra personal touch to your wrapping paper for your food business. You can choose to have your wrapping paper personalized with a logo and graphics of your choice or with your custom text. This custom print wrapping paper is durable and will not get torn or creased easily. You can also choose to have your custom print wrapping paper come in a variety of different colors. This makes the perfect wrapping paper for any food business like a fast-food joint, restaurant, food packaging etc.
If you're looking for a perfect, personalized wrapping paper for your restaurant which has everything, look no further than custom print wrapping paper. This high-quality paper is ideal for those with a keen eye for design and who want to make their food wrapping genuinely unique for their customers. Choose from various designs and patterns, or upload your logo and graphics to create a one-of-a-kind gift. The wrapping paper is available in different sizes and comes in double color print and single color print. Order now, and we'll ship it to you within one business day.
Do you need wrapping paper customized for your fast-food joint?
Custom wrapping paper is perfect for your business. With this product, you can give them a food parcel that will make them remember your fast-food joint. The paper is custom-made and features the restaurant's or food joint's name and graphics. For example, you can get a custom wrapping paper for your fast-food joint according to an upcoming event like IPL with IPL graphics on it. Or get Diwali graphics on wrapping paper during the festive season of Diwali with your logo on it. This is a wrapping paper that your customers will cherish and remember your business by.
Customized wrapping paper is a brand-new concept in food wrapping. Unlike the typical, standard wrapping paper, customized wrapping paper is designed to show off the business's branding. Customized wrapping paper is printed with a business name, the logo, or any other message or graphic for the perfect branding of a business. Wrapping a parcel in customized wrapping paper is a great way to give the recipient an authentic feel that your business care about them and want to make their day extra special.
This paper is perfect for wrapping food items like a sandwich, French fries, Hot dogs, burgers etc., for your business. This paper is printed with a custom design that you choose. You can have a single or two different designs on each side of the paper. The paper is made of quality, durable material to make any food item look like it was wrapped with care.
Conclusion
Wrapee makes the best Custom wrapping paper for various industries, from a food joint to a restaurant and food packing industries. Choose between a Double Color print or a Single Color Print and graphic to create a custom wrapping paper that's perfect for your business.