Butter Paper Roll for Food Packaging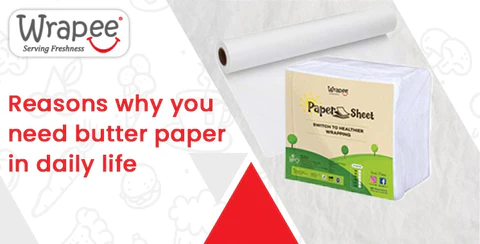 We all appreciate items that make life easier. When it comes to the packaging of food items, butter paper can be a lifesaver, thanks to butter paper manufacturers in India for keeping up with the demand. Butter Paper Roll made by butter paper manufacturers has a variety of functions, from packing baked good and lunches to storage to adornment. Whether at home or at a restaurant, butter paper can be a great thing to keep handy; here are six reasons you should keep some on hand.
. Butter Paper Roll for Food Packaging: The butter paper roll assists in packing foods like lunch boxes, cookies, fruits and many other food items. The butter paper sheet is an excellent item for food packaging because it helps prevent dust and insects from coming in contact with the food item. Simply wrap cookies in parchment paper and knot with baker's twine to create a packet.
. Simple cookie decorating cleanup: Before frosting and decorating cookies, lay down butter paper roll for food packaging, take out a butter paper sheet from it, put it on your kitchen counter and there you have it a place to cook food in a cleaner and efficient way. Finally, you can quickly and easily sweep up all of the sprinkles and debris and discard them safely.
. Butter Paper Sheet for Packing Butter: Yes, as the name suggests, a butter paper sheet can be used to pack butter and margarine. The good part is that butter paper helps keep both these items in shape.
. Transferring cookies to and from a baking sheet: If your butter paper sheet is lined with parchment paper, you can effortlessly slide the entire tray of cookies right onto your cooling rack once they are removed from the oven.
. Using Butter Paper to protect your chopping board: Butter Paper Roll can be used for protecting the chopping board when preparing, chopping and cutting food items like fish, raw meat, onion, chilly or beetroot, or for packaging and wrapping fatty and moist food, for instance when going for a picnic.
. Using Butter Paper to protect your baked items from cracking and breaking: Butter Paper Roll is the ideal wrapper for baked products. By using Butter Paper for packaging, your baked items can be given secure packaging, which will prevent crumbling or breaking of baked products.
Have you been persuaded to use Butter Paper Roll for Food Packaging? If you're seeking lightweight, easy-to-tear butter paper roll at an affordable price, check out the best butter paper roll manufacturers in India!
Butter paper is not the same as wax paper. Wax paper will burn in the oven, so do not make the mistake of conflating the two.
Look for butter paper roll manufacturers in India near the plastic wrap and aluminum foil; it is most often very readily available. It's only about three bucks. One roll lasts roughly a month for me, at home. It is also available at baking supply stores, grocery stores, and all super markets.