Aluminium Foil Manufacturer in India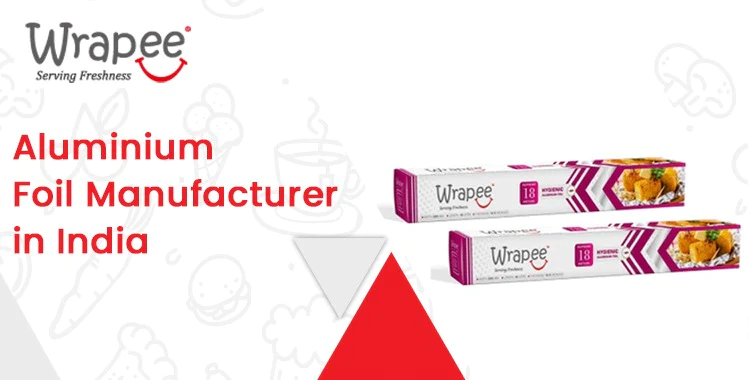 What is Wrapee Aluminium Foil?
Aluminium foil is a thin, light, and durable material that is used to wrap food and store leftovers. It is also used in arts and crafts projects. It is made of aluminium and is resistant to corrosion, high temperatures, and even tearing. It is used to protect food from burning or drying out in the oven. It can also be used to wrap a container or a bowl to keep food warm. It can be used to seal containers and keep the contents fresh. Wrapee is a major Aluminium Foil Manufacturers in India.
Why Choose Wrapee Aluminium Foil?
Wrapee's Aluminium foil is made using high-quality aluminium with advanced additives and other materials to ensure excellent properties. Their range offers non-stick heat resistance capabilities, malleability, and strength, as well as an environmentally friendly production process that goes beyond merely being recyclable. With their reliable standards maintained throughout the entire production chain, customers can be assured knowing they are getting a safe and convenient product for their needs.
Every year, the amount of Aluminium Foil in India is used to wrap up all the samosas, pakoras, and parathas, enough to stretch from Mumbai to Delhi. We at Wrapee Aluminium Foil manufacturers in India produce a high-quality, durable, and flexible product that is capable of resisting heat and moisture.
What Can You Use Wrapee Aluminium Foil For?
Aluminium foil by Wrapee is perfect for a variety of applications, including wrapping up snacks and leftovers. With the purchase of an Aluminium Foil Roll from Wrapee Aluminium Foil Roll Manufacturers in India, you can ensure that your food is protected from bacteria and odors. Plus, aluminum foil is so thin and flexible that it is easy to wrap up a variety of foods. The durability of our aluminium foil ensures that your food will stay fresh and protected. This is a must-have for every kitchen!
Where is Wrapee Aluminium Foil Used?
Aluminium foil is widely used for packaging food products as it is highly flexible and can be easily molded into any shape. It is also used for wrapping food items to keep them fresh for a longer period. Wrapee, Aluminium Foil Manufacturer in India are well known for its quality products. So If you're looking for the best aluminium foil roll manufacturers in India, look no further than Wrapee! We're dedicated to providing our customers with high-quality products and excellent customer service.
Aluminium foils are one of the fundamental safe packaging materials that are used for every perishable product and thing with an expiry date. We are leading Aluminium foil roll manufacturers in India. Wrapee's aluminium foil caters to nationwide clients.
Wrapee's Food Grade aluminium Foil, in particular, is in high demand across India's main cities due to its high heat-bearing capacity, smoothness, and consistent quality.
What is the purpose of Aluminium foil?
Aluminium foil is used to line baking trays and cookware, create an airtight seal on food packages, and can be used to wrap sandwiches and other food items.
What are the benefits of Aluminium foil?
Aluminium foil is versatile and can be used in a variety of different ways. It is also safe to use and does not pose any health risks.
What about Aluminium Foil Roll?
We are leading Aluminium Foil Roll Manufacturers In India. The aluminium foil roll is a common kitchen staple. This food-grade foil is an excellent way to preserve food, from cheese to delicate meats. The aluminum foil roll is a quick and convenient option if you're looking for an easy way to wrap up your food. This roll of aluminium foil is sold in a 10-meter roll and comes in an easy-to-carry dispenser. This roll of aluminium foil is made from food-grade foil and is available in a variety of thicknesses.
Aluminium foil is a marvel in modern packaging and insulation! Not only does it form a great barrier to keep food fresh and protected, but it also helps to regulate temperature too. It is light, durable, and can be recycled if needed. This means that you are reducing your carbon footprint by using aluminium foil when packing lunches or leftovers, as fewer resources are required for production. Moreover, the heat-resistant qualities of aluminium foil make it great for cooking – particularly grilling and barbecuing. You can wrap your ingredients so that they remain juicy while cooking evenly on the grill! So Get on Some Aluminium Foil from Wrapee Aluminium Foil Manufacturers in India and keep your food delicious and warm for longer.